De nos jours, on observe une popularisation croissante de l'intelligence artificielle au-delà des grands groupes industriels et à travers divers secteurs d'activités. L'entreprise MEG Digital spécialiste dans la transformation numérique propose aux entreprises des services et solutions permettant de communiquer à grande échelle, de manière personnalisée et efficiente auprès de leurs clients dans une optique multicanal. Comment l'IA permet-elle d'optimiser la relation client de manière efficace et frugale ? Pour en savoir plus, rendez-vous le 17/05/2022 de 11h à 12h pour notre prochain webinar, animé par Bruno Laborie, Head of Partnerships chez Golem.ai et Frédéric Juppet , Directeur General Adjoint chez MEG Digital !
L'expérience client au coeur de la relation client
Aujourd'hui, on constate qu'une expérience client de qualité représente un levier de croissance et de développement pour les entreprises, qui peut être optimisé grâce à notre IA. Selon une étude* récemment menée par l'entreprise Zendesk sur les tendances de l'expérience client, les consommateurs favorisent un service simple, efficace et rapide.
On constate notamment dans cette étude que :
60 % des clients font plus attention à la qualité du service délivrée par les entreprises
73% des dirigeants observent une corrélation entre la qualité du service client et les performances de leurs entreprises
61% des clients se tournent vers la concurrence après une mauvaise expérience, et 76% délaissent une marque après deux expériences décevantes
Par ailleurs, dans le secteur banque et assurance, la conformité est un enjeu primordial qui s'inscrit à travers différents process. Découvrez comment notre IA simplifie et automatise les procédures de KYC, permettant aux banques de valider la conformité bancaire des clients facilement et sans ressources supplémentaires, avec notamment l'expertise Meg Digital sur la transformation digitale des entreprises.
Retrouvez notre webinar disponible en replay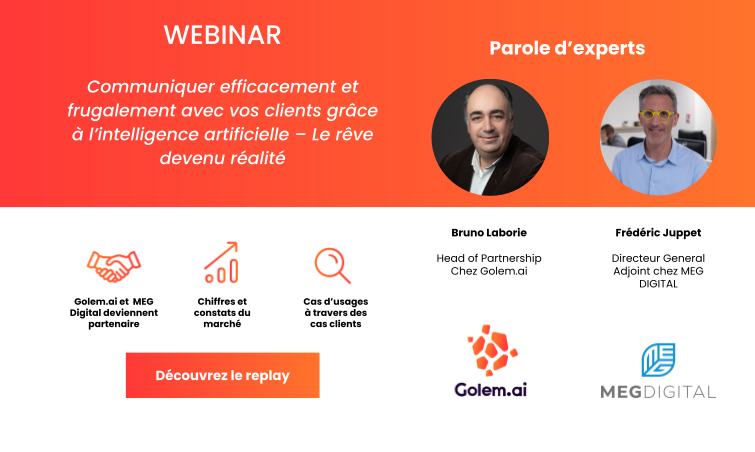 Au programme du Webinar :
Introduction de Golem.ai et MEG Digital
Chiffres & constats du marché
Cas d'usages de l'IA à travers des cas clients
Questions & réponses
Intervenants et présents :
Bruno Laborie, Head of Partnerships chez Golem.ai (intervenant)
Frédéric Juppet , Directeur General Adjoint chez MEG Digital (intervenant)
Vous avez une question sur l'automatisation de relation client ? Découvrez notre solution de traitement InboxCare. N'hésitez pas à contacter directement nos équipes pour plus d'informations !
*https://www.zendesk.fr/customer-experience-trends/#georedirect