Vérifier l'identité des clients d'une entreprise, ou processus KYC (Know Your Customer), nécessite d'analyser de nombreuses informations. Ces données, souvent non structurées, se situent dans de nombreux types de documents différents, rendant complexe leur exploitation. Découvrez comment et pourquoi l'intelligence artificielle simplifie cette mise en conformité, avec Pierre Bancelin Head of Product Marketing et Meriem Senhaji BDR chez Golem.ai.
L'analyse documentaire et le KYC
Chaque entreprise est concernée par le KYC. Le secteur banque assurance en sont les principaux concernés. Il s'agit d'un ensemble de procédures permettant de connaître dans le détail leurs clients et d'assurer un suivi financier validant ainsi leur conformité règlementaire.
Ce sont ainsi des milliers de critères qui sont analysés régulièrement, tels que l'inscription au registre du commerce, l'absence de fraudes,le risque lié à la solvabilité financière de l'entreprise ou au risque de blanchiment de fonds… En sommes, c'est un moyen d'être conforme à la loi, notamment à la loi anti-corruption.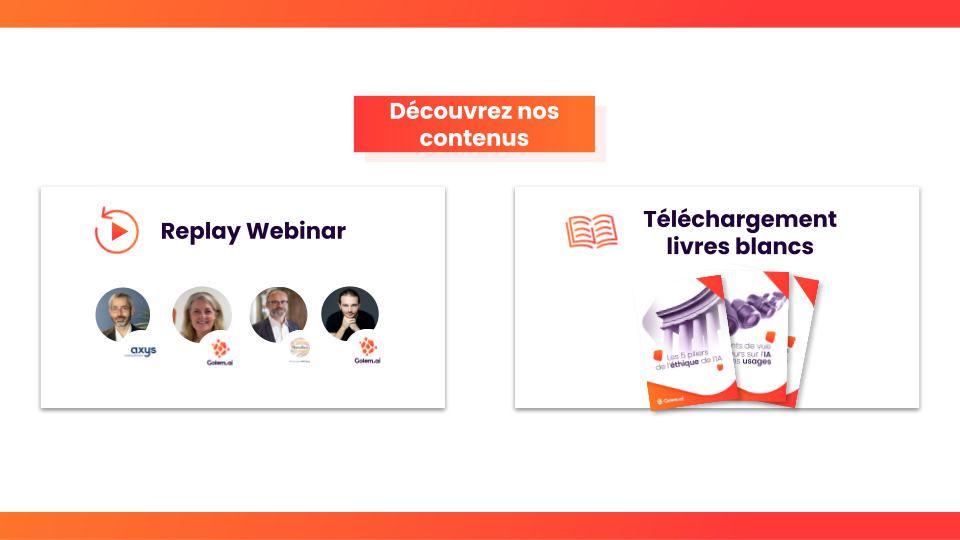 L'analyse de ces nombreuses datas est aujourd'hui simplifiée grâce à l'intelligence artificielle. Le NLP, ou natural language processing, permet d'auditer l'ensemble des documents nécessaires au bon fonctionnement du KYC. Quel est son fonctionnement ? Quels sont les cas d'usages ? Pour en savoir plus, découvrez le programme de notre prochain webinar "Comment automatiser le processus de KYC sur les plateformes grâce à l'intelligence artificielle ?".
Au programme :
Introduction et analyse des chiffres du marché
Cas d'application du processus KYC
Démonstration de la plateforme
Questions & réponses
Intervenants et présents :
Pierre Bancelin – Head of Marketing Product chez Golem.ai (Intervenant)
Meriem Senhaji – Sales Development Representative chez Golem.ai (Intervenante)
Retrouvez ce webinar en replay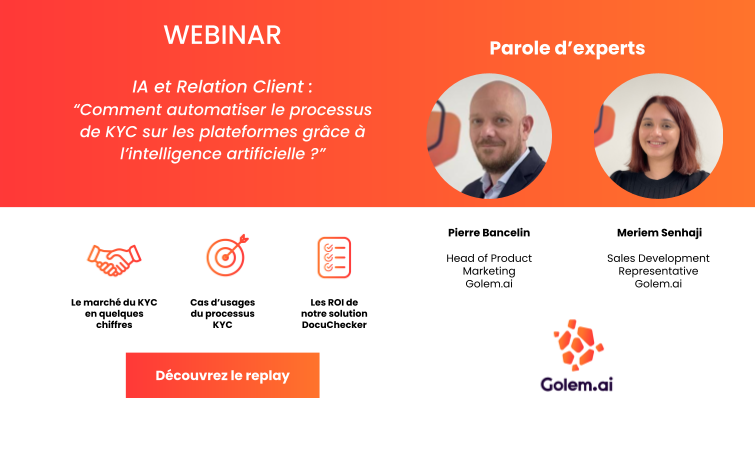 Vous avez une question sur l'automatisation de relation client ? Découvrez nos solutions de traitement de données DocuChecker and InboxCare. N'hésitez pas à contacter directement nos équipes pour plus d'informations.